Posted in : Small Business Tips, Social Media Marketing Resources, Social Media Tips
Unsurprisingly, most small businesses are on social media these days. But having a social media account isn't enough to attract and engage your audience anymore. A business needs to be both creative and consistent if they want to get the attention of buyers and build relationships with customers. One way to do this is through a strong social media marketing campaign.
One of the biggest challenges for a small business' social media is their lack of resources. Most have a small digital marketing team, and a smaller budget for social media management. That's why it's vital for a small business owner to be smart about social media. By developing a social media marketing campaign that resonates with their target audience, a small business can get the most bang for their buck when it comes to social media.
What can a small business do to make their social media marketing campaign stronger? Here are just three examples of small businesses using a social media campaign in a way to better themselves.
1. Burger Revolution
Burger Revolution is a small burger restaurant located within Ontario, Canada. When it comes to marketing, they want to reach local customers, and engage current patrons to come back again. They have a growing social media presence, and they are very active about posting updates on their burger specials.
One thing Burger Revolution does is sharing content from their patrons via social media. They have an ongoing social media marketing campaign known as "the comment of the day." At the restaurant, they have a board where patrons can post comments about their experience on a Post-It note. Then, the Burger Revolution staff posts their favorite one social media every day.
This campaign is a good way for Burger Revolution to highlight their patrons' positive experiences. It also helps humanize the brand by showing real comments from real people who love spending time there. Moreover, Burger Revolution's fans and followers love seeing the restaurant's daily post. They often like and comment on this content as a way to show their support for the local burger joint.
The comment of the day campaign is an exceptional way for Burger Revolution to utilize user-generated content on their social media platforms. Even better, it's an affordable tactic that most small businesses can also use to both attract and engage with those from their target market.
You can still find a way to encourage your own fans and followers to create content that can be shared. One ways to do this is to hold a social media contest where you ask your customers to send a photo of themselves consuming or using your product or service. People love free stuff; and even if the prize being offered up is small, you will still be able to generate awesome content from customers.
User-generated content is priceless for a small business because it shows prospects and customers alike how your products and services are used in the real world. This content helps build brand recognition and trust. When others see how your customers are responding positively to your brand, they may give your business a chance.
2. Urban Canning Company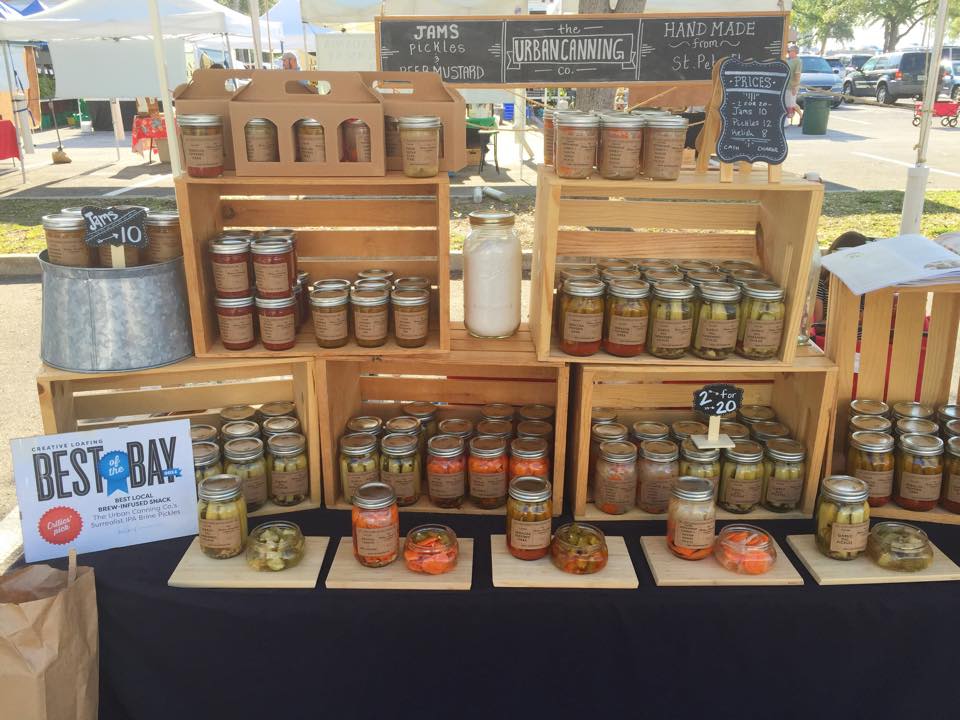 [Image Source: https://www.downtownstpete.com/5-summer-staples-to-find-at-the-saint-pete-indie-market/urban-canning-company-downtown-stpete-florida/]
The Urban Canning Company is a small business based out of St. Petersburg, Florida. They provide many hand crafted, naturally preserved foods such as jams, pickles, and beer mustards. They use their marketing to reach not only local customers— who can purchase their products from either the tasting room or local stores and markets— but also new consumers and distributors who can purchase their products online.
Urban Canning continues to do a wonderful job of branding themselves as an artisanal food company. Since they focus heavily on using fresh seasonal produce, many of their products are only available for a small while. They've developed an ongoing social media marketing campaign to highlight seasonal products, as well as to emphasize their limited quantity.
The company uses high quality photos to catch the attention of their audience, and then provide more details about the product to draw the consumer in. These posts emphasize that the product in question are only available for a limited time. They also let the user know where they can get these items before they run out.
Highlighting the limited nature of their products helps the Urban Canning Company add a sense of urgency for their consumers. Communicating the message that their products are seasonal and in a limited quantity also encourages consumers to act as soon as possible. This adds a sense of exclusivity for said consumers.
The fast-paced nature of social media makes it a great place to highlight any limited or exclusive products. You can get the word out fast about limited quantities, and make sure that your fans and followers know where they can purchase these products sooner rather than later. This can even help in selling your products at a faster rate!
If your products are not limited in nature— or you provide services instead of goods— you can still use this tactic in your social media marketing campaign. For example, you can create posts on your social media platforms to let your consumers know when a seasonal promotion is almost over. This will encourage them to act quickly in order to take advantage of the deal while it's still available.
3. RecruitMilitary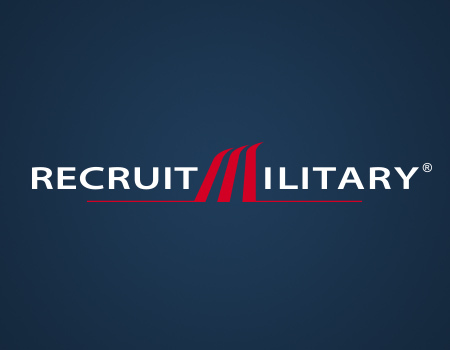 [Image Source: https://recruitmilitary.com/about]
RecruitMilitary is an organization that offers free job search services to both veterans and their spouses. They aim to help connect people with the right employers to help them transition into the civilian job world after their service. In addition to publishing a veteran hiring magazine, the organization also holds job fairs across the United States for veterans seeking employment.
RecruitMilitary uses their social media platform to connect with veterans who desperately need employment. But the organization goes beyond just advertising their services on these platforms. RecruitMilitary also does a fantastic job of educating their target market on all relevant job search topics, such as interview skills and resume building to name just a few.
Since education is also an important part of RecruitMilitary's mission statement, they have incorporated a lot of curated content into their social media marketing campaign. The organization will often share online articles from any relevant publications about the many different job search topics that exist. While not all of these third-party content shares are catered specific to veterans or their spouses, they are all still very valuable in helping the organization's target market learn everything that they can about landing a new job.
Having said this, RecruitMilitary doesn't just post links to this content on their social pages; they also include relevant and engaging post content that helps give the article context. This allows both their fans and followers to get a better idea of whether or not the content is relevant to whatever their specific needs may be.
Sharing any and all relevant third-party content will help add more value for your leads and customers. Not only are you sharing helpful content with them, but you're also demonstrating how your business stays up-to-date with all of the latest trends and news that concern your industry. This helps build trust for your brand, establishing your business as a strong leader.
[Image Source: http://www.qnetnews.ca/?p=32817]